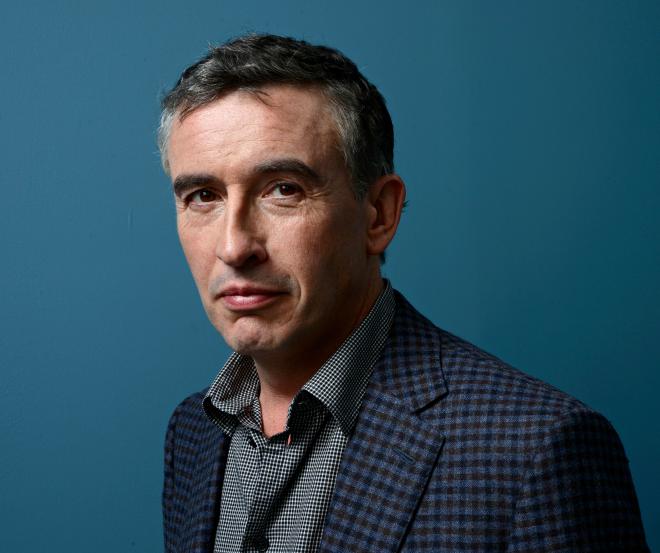 Steve Coogan Net Worth is

$12 Million
Steve Coogan Bio/Wiki 2018
Steve Coogan is among the most famous performer and stand up comedian. He's an typical tall guy with all the height of 5 feet 10 inches.
He constantly wished to attend drama school but his application had not been approved in five distinct schools. He was afterward set at theatre company New Music and later entered Manchester Metropolitan School of Theatre. In the beginning of his career he worked as funny and impressionist. He then worked as the voice artist in television ads as well as the satirical puppet show called Spitting Image.
Coogan has worked in several films and TV shows. He's appeared in films like Tropic Thunder, The Other Men, In The Loop, Hamlet 2, Night at the Museum, etc. He has additionally done the voice part in comedic animated film Despicable Me 2. He could be the fourth son of an IBM engineer Anthony Coogan who was father to seven children and mom Kathleen, a housewife. He additionally said that his parents used to foster the kids on a short- period basis. He'd also admitted about his drugs use.
When Coogan was the guest editor of the magazine Packed in 2011 he met Elle Basey and had an affair along with her. His girlfriend is the glamour model for the magazine as well as the couples are still together. His net worth is 12 million dollars, which has shown his worth on the market.
Some shirtless images, which were rumored to be his, were flashed in the media. He's not definitely said his sexual orientation whether he's homosexual or straight. He's got supporters and followers from all over the world in social media sites like Twitter and Instagram. His in-depth info are available in wiki websites like Wikipedia.
 
| | |
| --- | --- |
| Full Name | Steve Coogan |
| Net Worth | $12 Million |
| Date Of Birth | October 14, 1965 |
| Place Of Birth | Middleton, Manchester, England, UK |
| Height | 5' 10½" (1.79 m) |
| Profession | Actor, Producer, Writer |
| Education | Manchester Metropolitan University |
| Nationality | British |
| Spouse | Caroline Hickman |
| Children | Clare Coogan |
| Parents | Anthony Coogan, Kathleen Coonan |
| Siblings | Brendan Coogan, Martin Coogan, Clare Coogan |
| Nicknames | Stephen Coogan , Stephen John Coogan , Steve , Stephen John "Steve" Coogan , Tony Ferrino , Alan Partridge , Paul Calf , Tommy Saxondale , Duncan Thicket |
| Awards | BAFTA Award for Best Adapted Screenplay, Best Screenplay Award, British Academy Television Award for Best Male Performance in a Comedy Programme, British Academy Television Award for Comedy and Comedy Entertainment Programme, British Academy Television Award for Best Comedy Performance, Satellite Aw... |
| Nominations | Academy Award for Best Picture, Academy Award for Best Writing Adapted Screenplay, BAFTA Award for Best British Film, BAFTA Award for Best Film, Golden Globe Award for Best Screenplay - Motion Picture, BAFTA Award for Outstanding Debut by a British Writer, Director or Producer, British Academy Telev... |
| Movies | Philomena, The Trip to Italy, Alan Partridge: Alpha Papa, Minions, 24 Hour Party People, The Secret Life of Pets, Around the World in 80 Days, Despicable Me 2, Tropic Thunder, The Look of Love, What Maisie Knew, Hamlet 2, A Cock and Bull Story, The Other Guys, Percy Jackson & the Olympians: The Ligh... |
| TV Shows | The Trip, Happyish, I'm Alan Partridge, Knowing Me Knowing You with Alan Partridge, Saxondale, The Day Today, Mid Morning Matters with Alan Partridge, Spitting Image, Coogan's Run, Dr. Terrible's House of Horrible, I Am Not an Animal, Monkey Trousers, Neighbors from Hell, Bob and Margaret, Mrs Merto... |
| # | Quote |
| --- | --- |
| 1 | I don't like modern jazz. I like smoother jazz, but not so smooth that it veers toward Chris De Burgh. That would be wrong. |
| 2 | [on his multifaceted contributions to 'Philomena'] It was a cathartic experience for me. Comedy as an end in itself is like chocolate - enjoyable and not very nourishing. Why are people so scared of sincerity? I wanted to talk about important things.. I'm not portentous or self-righteous. I've still got prosaic tastes. I like cars! I'm not joyless. |
| 3 | I don't have a Twitter thing. I don't do Facebook. I don't do any of that. I'm holding out. |
| 4 | I like cars. I have about 10 - all British cars. I have a Lotus, Morgan, Aston Martin. I don't really drive them much because I'm scared of damaging them. I just clean them and look at them and sometimes I take them out on a Sunday up and down the road and then I come back and clean them again. |
| 5 | I love "The Onion" on YouTube. It's one of the funniest things out there. And I like watching documentaries on BBC4. They don't insult your intelligence. But I have guilty pleasures, too. If I want to really dumb down, I'll watch Locked Up Abroad (2007). It's about people who get into trouble and get locked up in foreign prisons. If you're having a bad day, you look at that and think, you know what, I may be having a bad day, but I'm not locked up in a foreign prison. |
| 6 | [Dec. 2013] I'm reading is "How To Live: Or a Life of Montaigne," by Sarah Bakewell. It's about this Renaissance writer Michel de Montaigne who wrote essays that together form a kind of manual on how to live your life, only he wrote it in the 1500s. It resonates still today. It's about not having to aspire to live in some perfect way but to somehow embrace your flaws. It's quite liberating and comforting. |
| 7 | I'm not Mother Teresa, but I'm not Frank Bough either. |
| 8 | [on the Leveson Inquiry into the British press] I got involved in Leveson because I knew no one else in the public eye would. They didn't want to take the risk. I thought the way the press behaved - and yes it was towards me, but also towards a lot of other people who didn't have a voice like me - was just wrong. |
| 9 | When my life has been the subject of tabloid intrusion, what I have never done is get engaged in justifying myself. Celebrities who go round apologizing are pitiful, and don't do themselves any favors. |
| 10 | People have made the observation, which is entirely valid, that Steve Coogan's becoming more like Alan Partridge. It's not actually true. Alan Partridge is becoming more and more like me. |
| 11 | I don't talk about my personal life. I don't go in Hello! magazine to get a free kitchen because I show them my kitchen. I like to be creative, but I'm not interested in being recognized. |
| 12 | I have never wanted to be famous, as such - fame is a by-product. Me, myself, personally, I like to keep myself private. I have never said I am a paragon of virtue, a model of morality. I simply do what I do. One could argue that there are those who make their career out of being famous and those people do enter into a Faustian pact, where they use the press to raise their profile. They exploit the press for their own ends. They are in the fame game. |
| 13 | The 'News of the World' is a misogynistic, single parent-hating, asylum seeker-hating newspaper, and it's gone to the wall, and I'm delighted. |
| 14 | The big comic performance is a very obvious thing to do. The bolder, more inventive thing sometimes is the subtler, understated performance with minute shades and variations. If you start to disrespect the character you're playing, or play it too much for laughs, that can work for a sketch, it will sell some gags, but it's all technique. It's like watching a juggler - you can be impressed by it, but it's not going to touch you in any way. |
| 15 | In comic acting, to improvise effectively is quite difficult. A lot of actors can improvise up to a certain level - an entry level, which is when you see the actors having more fun than the audience. |
| 16 | I don't want to be someone who's trying to spin this public image of me. I have had some negative tabloid press, I'm sure you're aware [I am], but I don't like to portray myself as somehow a nice, well-rounded person. |
| 17 | As soon as I see period costume, I turn off. It's like hearing drama on Radio 4. |
| 18 | I always find it easier to portray myself as being unlikeable and idiotic; to actually play a character that is likeable and engages the audience is far more difficult. It's a more subtle kind of challenge. |
| 19 | Actors say they do their own stunts for the integrity of the film but I did them because they looked like a lot of fun. |
| # | Fact |
| --- | --- |
| 1 | An accomplished mimic, his legion of uncanny impressions include Sean Connery, Roger Moore, Pierce Brosnan, Stephen Hawking, Michael Caine, Ian McKellen, Liam Neeson, Ray Winstone, Alan Rickman, Harry Enfield, John Major, Al Pacino, Martin Sheen and more. |
| 2 | Was considered to play Peter Sellers in The Life and Death of Peter Sellers (2004). |
| 3 | Worked with Jackie Chan in Around the World in 80 Days (2004). |
| 4 | Has a daughter, Clare, from his relationship with solicitor Anna Cole. |
| 5 | Aidan McArdle is his cousin. |
| 6 | His show, Steve Coogan is The Man Who Thinks He's It, was nominated for a 1999 Laurence Olivier Theatre Award for Best Entertainment for the 1998 season. |
| 7 | Older brother of Brandan Coogan (MUTV presenter) and younger brother of Martin Coogan (ex-lead singer of The Mock Turtles). |
| 8 | The third of six children. |
| 9 | His father was born in Manchester, of Irish descent. His mother is from Mayo, Ireland. |
| 10 | Based the character of Alan Partridge on a radio presenter who interviewed him just as he was becoming famous. Coogan began mimicking the interviewer during the interview and from this came the inspiration for Coogan's most famous creation. |
| 11 | Trained as an actor at Manchester Polytechnic School of Theatre. |
| 12 | Has worked on BBC radio. |
| 13 | English actor whose versatile character portrayals, range of voices and gift for mimicry have earned him comparisons with the late Peter Sellers. |
Actor
| Title | Year | Status | Character |
| --- | --- | --- | --- |
| Stan and Ollie | 2017 | pre-production | Stan Laurel |
| The Adventures of Drunky | 2017 | post-production | The Devil (voice) |
| The Trip to Spain | 2017 | post-production | Steve |
| The Dinner | 2017 | post-production | Paul Lohman |
| Ideal Home | 2016 | post-production | Erasmus |
| Rules Don't Apply | 2016 | | Colonel Nigel Briggs |
| Zapped | 2016 | TV Series | Malador |
| The Secret Life of Pets | 2016 | | Ozone / Reginald (voice) |
| Alan Partridge's Scissored Isle | 2016 | Short | Alan Partridge |
| Mid Morning Matters with Alan Partridge | 2010-2016 | TV Series | Alan Partridge |
| Shepherds and Butchers | 2016 | | Johan Webber |
| Happyish | 2015 | TV Series | Thom Payne |
| Minions | 2015 | | Professor Flux / Tower Guard (voice) |
| Night at the Museum 3 | 2014 | | Octavius |
| Northern Soul | 2014 | | Mr. Banks |
| The Trip | 2010-2014 | TV Series | Steve |
| The Trip to Italy | 2014 | | Steve |
| Philomena | 2013 | | Martin Sixsmith |
| Alan Partridge: Alpha Papa | 2013 | | Alan Partridge Jason Statham Jason Bourne ... |
| Despicable Me 2 | 2013 | | Silas (voice) |
| The Look of Love | 2013 | | Paul Raymond |
| Doubt | 2013 | TV Movie | Vincent |
| Uncle Wormsley's Christmas | 2012 | TV Movie | Narrator |
| Moone Boy | 2012 | TV Series | Francie Feeley |
| What Maisie Knew | 2012 | | Beale |
| Ruby Sparks | 2012 | | Langdon Tharp |
| Alan Partridge on Open Books with Martin Bryce | 2012 | TV Movie | Alan Partridge |
| Alan Partridge: Welcome to the Places of My Life | 2012 | TV Special | Alan Partridge |
| The Simpsons | 2012 | TV Series | Rowan Priddis |
| Documental | 2011 | TV Movie | Michel Brandon |
| The Jonathan Ross Show | 2011 | TV Series | Alan Partridge |
| Darkwood Manor | 2011 | | Steve Coogan |
| Comic Relief: Red Nose Day 2011 | 2011 | TV Movie | Alan Partridge |
| Our Idiot Brother | 2011 | | Dylan |
| Marvin | 2010/II | Short | Narrator (voice) |
| Chekhov Comedy Shorts | 2010 | TV Series | |
| The Trip | 2010/I | | Steve |
| The Other Guys | 2010 | | David Ershon |
| Neighbors from Hell | 2010 | TV Series | Satan |
| Marmaduke | 2010 | | Raisin (voice) |
| Percy Jackson & the Olympians: The Lightning Thief | 2010 | | Hades |
| Pigsy Doodle | 2009 | Short | Pigsy Doodle |
| Night at the Museum: Battle of the Smithsonian | 2009 | | Octavius |
| What Goes Up | 2009 | | Campbell Babbitt |
| In the Loop | 2009 | | Paul Michaelson |
| Sunshine | 2008 | TV Mini-Series | Bing Crosby |
| Tales of the Riverbank | 2008 | | Roderick |
| Tropic Thunder | 2008 | | Damien Cockburn - Vietnam Crew |
| Tropic Thunder: Rain of Madness | 2008 | Video short | Damian Cockburn (uncredited) |
| Finding Amanda | 2008 | | Michael Henry |
| Hamlet 2 | 2008 | | Dana Marschz |
| Curb Your Enthusiasm | 2007 | TV Series | Dr. Bright |
| Saxondale | 2006-2007 | TV Series | Tommy Saxondale Gay Mancunian Heroin Addict |
| For the Love of God | 2007 | Short | Graham |
| Hot Fuzz | 2007 | | Metropolitan Police Inspector (uncredited) |
| Little Britain | 2006 | TV Series | Pilot |
| Night at the Museum | 2006 | | Octavius |
| Marie Antoinette | 2006 | | Ambassador Mercy |
| Lies & Alibis | 2006 | | Ray Elliot |
| Alan Meets Roger Daltrey | 2005 | Video short | Alan Partridge (uncredited) |
| Alan Partridge's Top Teen Tunes. | 2005 | Video short | Alan Partridge (uncredited) |
| Alan Partridge Presents: The Cream of British Comedy | 2005 | Video | Alan Partridge |
| Tristram Shandy: A Cock and Bull Story | 2005 | | Tristram Shandy Walter Shandy Steve Coogan |
| Monkey Trousers | 2005 | TV Series | Various Characters |
| Happy Endings | 2005 | | Charley |
| I Am Not an Animal | 2004 | TV Series | Philip the Horse / Mark the Bird / Julian Lovely / ... |
| Around the World in 80 Days | 2004 | | Phileas Fogg |
| The All Star Comedy Show | 2004 | TV Movie | Various Roles |
| Ella Enchanted | 2004 | | Heston (voice) |
| The Private Life of Samuel Pepys | 2003 | TV Movie | Samuel Pepys |
| Coffee and Cigarettes | 2003 | | Steve (segment "Cousins?") |
| Anglian Lives: Alan Partridge | 2003 | TV Movie | Alan Partridge |
| Paul and Pauline Calf's Cheese and Ham Sandwich | 2003 | TV Short | Duncan Thicket Pauline Calf Paul Calf |
| Cruise of the Gods | 2002 | TV Movie | Nick Lee |
| I'm Alan Partridge | 1997-2002 | TV Series | Alan Partridge |
| Robbie the Reindeer in Legend of the Lost Tribe | 2002 | TV Short | Blitzen (voice) |
| 24 Hour Party People | 2002 | | Tony Wilson |
| Combat Sheep | 2001 | TV Movie | Cmdr. Harris (voice) |
| Dr. Terrible's House of Horrible | 2001 | TV Series | Dr. Terrible / Captain Tobias Slater / Lester Crown / ... |
| A Small Summer Party | 2001 | TV Movie | Geoff |
| The Parole Officer | 2001 | | Simon Garden |
| Hooves of Fire | 1999 | TV Short | Blitzen (voice) |
| Mrs. Merton and Malcolm | 1999 | TV Series | Terry Wogan / Vicar / Self-Help Video Presenter |
| The End of the Year Show | 1998 | TV Series | Tony Ferrino |
| Alice Through the Looking Glass | 1998 | TV Movie | Gnat |
| The Revengers' Comedies | 1998 | | Bruce Tick |
| Bob and Margaret | 1998 | TV Series | Various Roles / Peter |
| Clive Anderson All Talk | 1996-1997 | TV Series | Alan Partridge / Tony Ferrino |
| The Fix | 1997 | TV Movie | Mike Gabbett |
| The Saturday Night Armistice | 1997 | TV Series | Alan Partridge |
| Introducing Tony Ferrino: Who and Why? A Quest | 1997 | TV Movie | Tony Ferrino |
| The Tony Ferrino Phenomenon | 1997 | TV Movie | Tony Ferrino |
| Mr. Toad's Wild Ride | 1996 | | Mole |
| Tales from the Crypt | 1996 | TV Series | Danny Skeggs |
| Alan Partridge's Country Ramble | 1995 | TV Short | Alan Partridge |
| Knowing Me, Knowing You with Alan Partridge | 1994-1995 | TV Series | Alan Partridge |
| Coogan's Run | 1995 | TV Series | Paul Calf Ernest Moss Gareth Cheeseman ... |
| The Indian in the Cupboard | 1995 | | Tommy |
| Steve Coogan: Live 'n' Lewd | 1994 | Video | Steve Coogan Pauline Calf Duncan Thickett ... |
| Pauline Calf's Wedding Video | 1994 | TV Short | Paul Calf Pauline Calf |
| A Christmas Night with the Stars | 1994 | TV Series | Alan Partridge |
| The Day Today | 1994 | TV Series | Alan Partridge / Alvin Holler / Bobby Sky / ... |
| Paul Calf's Video Diary | 1993 | TV Short | Paul Calf Pauline Calf |
| Spitting Image | 1987-1993 | TV Series | John Major Douglas Hurd Jeremy Paxman ... |
| Harry | 1993 | TV Series | Stebbings |
| Thatcherworld | 1993 | TV Short voice | |
| The Smell of Reeves and Mortimer | 1993 | TV Series | Lead Singer of Go West |
| Saturday Zoo | 1993 | TV Series | Paul Calf / Pauline Calf / Stuart Mulligan |
| The Dead Good Show | 1992 | TV Movie | Various Characters |
| A Word in your Era | 1992 | TV Series | Casanova |
| Sean's Show | 1992 | TV Series | Lovey |
| Resurrected | 1989 | | Youth 2 |
Producer
| Title | Year | Status | Character |
| --- | --- | --- | --- |
| Zapped | 2016 | TV Series executive producer - 3 episodes | |
| Mindhorn | 2016 | executive producer | |
| Dancer | 2016/II | Documentary executive producer | |
| Alan Partridge's Scissored Isle | 2016 | Short executive producer | |
| Mid Morning Matters with Alan Partridge | 2010-2016 | TV Series executive producer - 13 episodes | |
| Us & Them | 2013-2014 | TV Series executive producer - 7 episodes | |
| Gus and His Dirty Dead Dad | 2013 | Short executive producer | |
| Philomena | 2013 | producer | |
| Alan Partridge: Alpha Papa | 2013 | executive producer | |
| Alan Partridge on Open Books with Martin Bryce | 2012 | TV Movie executive producer | |
| Alan Partridge: Welcome to the Places of My Life | 2012 | TV Special executive producer | |
| Starlings | 2012 | TV Series executive producer - 1 episode | |
| Steve Coogan Live: As Alan Partridge and Other Less Successful Characters | 2009 | Video documentary executive producer | |
| What Goes Up | 2009 | executive producer | |
| Saxondale | 2006-2007 | TV Series executive producer - 13 episodes | |
| Sensitive Skin | 2005-2007 | TV Series executive producer - 12 episodes | |
| The Abbey | 2007 | TV Movie executive producer | |
| The 10th Man | 2006 | Short executive producer | |
| Snow Cake | 2006 | executive producer | |
| Nighty Night | 2004-2005 | TV Series executive producer - 12 episodes | |
| Dating Ray Fenwick | 2005 | Short executive producer | |
| The Mighty Boosh | 2003-2005 | TV Series executive producer - 15 episodes | |
| Monkey Trousers | 2005 | TV Series executive producer - 5 episodes | |
| Ideal | 2005 | TV Series executive producer - 8 episodes | |
| The Keith Barret Show | 2004-2005 | TV Series executive producer - 13 episodes | |
| Boosh Music | 2005 | Video short executive producer | |
| AD/BC: A Rock Opera | 2004 | TV Movie executive producer | |
| I Am Not an Animal | 2004 | TV Series executive producer - 6 episodes | |
| King of Fridges | 2004 | TV Movie executive producer | |
| The All Star Comedy Show | 2004 | TV Movie executive producer | |
| The Sketch Show | 2003-2004 | TV Series executive producer - 8 episodes | |
| Posh & Becks' Big Impression: Behind the Scenes & Extra Bits | 2003 | TV Movie documentary executive producer | |
| The Private Life of Samuel Pepys | 2003 | TV Movie executive producer | |
| Marion & Geoff | 2000-2003 | TV Series associate producer - 16 episodes | |
| Paul and Pauline Calf's Cheese and Ham Sandwich | 2003 | TV Short executive producer | |
| Brain Candy | 2002 | TV Movie executive producer | |
| Cruise of the Gods | 2002 | TV Movie executive producer | |
| Up in Town | 2002 | TV Series executive producer - 2002 | |
| Combat Sheep | 2001 | TV Movie executive producer | |
| Dr. Terrible's House of Horrible | 2001 | TV Series executive producer - 6 episodes | |
| A Small Summer Party | 2001 | TV Movie executive producer | |
| Human Remains | 2000 | TV Series executive producer - 6 episodes | |
| Steve Coogan: The Man Who Thinks He's It | 1998 | Video documentary executive producer | |
Writer
| Title | Year | Status | Character |
| --- | --- | --- | --- |
| I'm Alan Partridge | 1997-2002 | TV Series written by - 12 episodes | |
| Dr. Terrible's House of Horrible | 2001 | TV Series written by - 6 episodes | |
| The Parole Officer | 2001 | written by | |
| Steve Coogan: The Man Who Thinks He's It | 1998 | Video documentary written by | |
| Introducing Tony Ferrino: Who and Why? A Quest | 1997 | TV Movie | |
| The Tony Ferrino Phenomenon | 1997 | TV Movie | |
| Alan Partridge's Country Ramble | 1995 | TV Short | |
| Knowing Me, Knowing You with Alan Partridge | 1994-1995 | TV Series written by - 7 episodes | |
| Coogan's Run | | TV Series additional material - 3 episodes, 1995 written by - 3 episodes, 1995 | |
| Steve Coogan: Live 'n' Lewd | 1994 | Video | |
| Pauline Calf's Wedding Video | 1994 | TV Short written by | |
| The Day Today | 1994 | TV Series written by - 7 episodes | |
| Paul Calf's Video Diary | 1993 | TV Short written by | |
| The Dead Good Show | 1992 | TV Movie | |
| Alan Partridge's Scissored Isle | 2016 | Short written by | |
| Mid Morning Matters with Alan Partridge | | TV Series 17 episodes, 2010 - 2016 written by - 1 episode, 2016 | |
| The Trip | 2014 | TV Series writer - 6 episodes | |
| Philomena | 2013 | screenplay | |
| Alan Partridge: Alpha Papa | 2013 | based upon characters created by / screenplay | |
| Alan Partridge on Open Books with Martin Bryce | 2012 | TV Movie | |
| Alan Partridge: Welcome to the Places of My Life | 2012 | TV Special written by | |
| Comic Relief: Red Nose Day 2011 | 2011 | TV Movie | |
| Steve Coogan: The Inside Story | 2009 | TV Movie written by | |
| Steve Coogan Live: As Alan Partridge and Other Less Successful Characters | 2009 | Video documentary written by | |
| Tropic Thunder: Rain of Madness | 2008 | Video short creator | |
| Saxondale | | TV Series writer - 5 episodes, 2006 written by - 2 episodes, 2007 | |
| Alan Meets Roger Daltrey | 2005 | Video short | |
| Alan Partridge's Top Teen Tunes. | 2005 | Video short | |
| The All Star Comedy Show | 2004 | TV Movie | |
| Anglian Lives: Alan Partridge | 2003 | TV Movie | |
| Paul and Pauline Calf's Cheese and Ham Sandwich | 2003 | TV Short | |
Soundtrack
| Title | Year | Status | Character |
| --- | --- | --- | --- |
| The Simpsons | 2012 | TV Series performer - 1 episode | |
| Hamlet 2 | 2008 | performer: "Raped in the Face" | |
| The Tony Ferrino Phenomenon | 1997 | TV Movie performer: "Fishing For Girls", "Help Yourself", "Silence Of The Lambs", "Bigamy At Christmas" | |
| Mr. Toad's Wild Ride | 1996 | performer: "Friends Is What We Is" | |
| Knowing Me, Knowing You with Alan Partridge | 1994 | TV Series performer - 1 episode | |
Composer
| Title | Year | Status | Character |
| --- | --- | --- | --- |
| Steve Coogan Live: As Alan Partridge and Other Less Successful Characters | 2009 | Video documentary | |
| Steve Coogan: The Man Who Thinks He's It | 1998 | Video documentary | |
Music Department
| Title | Year | Status | Character |
| --- | --- | --- | --- |
| The Tony Ferrino Phenomenon | 1997 | TV Movie songs by | |
Thanks
| Title | Year | Status | Character |
| --- | --- | --- | --- |
| Arthur Christmas | 2011 | special thanks | |
| Tropic Thunder: Rain of Madness | 2008 | Video short special thanks | |
Self
| Title | Year | Status | Character |
| --- | --- | --- | --- |
| Steve Coogan and Noel Gallagher for SU2C | 2016 | TV Special | Himself |
| British Sitcom: 60 Years of Laughing at Ourselves | 2016 | TV Movie documentary | Himself / Alan Partridge |
| Dying Laughing | 2016 | Documentary | Himself |
| One Big Night for Children in Need | 2015 | TV Movie | Himself |
| TFI Friday | 2015 | TV Series | Himself |
| Talk Stoop with Cat Greenleaf | 2015 | TV Series | Himself |
| Made in Hollywood | 2014 | TV Series | Himself |
| The Lost Honour of Christopher Jefferies | 2014 | TV Mini-Series | Himself |
| Richard Herring's Leicester Square Theatre Podcast | 2014 | TV Series | Himself |
| One Rogue Reporter | 2014 | Documentary | |
| 11th Annual Irish Film & Television Awards | 2014 | TV Special | Himself - Guest Presenter |
| Late Night with Seth Meyers | 2014 | TV Series | Himself |
| The 86th Annual Academy Awards | 2014 | TV Special | Himself - Nominee: Best Picture and Nominee: Best Adapted Screenplay |
| Cinema 3 | 2014 | TV Series | Himself |
| Tavis Smiley | 2014 | TV Series | Himself - Guest |
| Good Morning America | 2014 | TV Series | Himself - Guest |
| EE British Academy Film Awards: The Red Carpet Show | 2014 | TV Special | Himself |
| The EE British Academy Film Awards | 2014 | TV Special | Himself - Presenter: Outstanding Debut by a British Director, Writer or Producer |
| Katie | 2014 | TV Series | Himself / Martin Sixsmith (in photo) |
| CBS News Sunday Morning | 2014 | TV Series documentary | Himself - Guest |
| The View | 2014 | TV Series | Himself |
| The 56th Annual Grammy Awards | 2014 | TV Special | Himself (uncredited) |
| 20th Annual Screen Actors Guild Awards | 2014 | TV Special | Himself - Presenter (uncredited) |
| 71st Golden Globe Awards | 2014 | TV Special | Himself - Presenter / Nominee |
| Rencontres de cinéma | 2014 | TV Series | Himself |
| CBS This Morning | 2014 | TV Series | Himself - Guest |
| The Daily Show | 2014 | TV Series | Himself |
| The Kate Bush Story: Running Up That Hill | 2014 | TV Movie documentary | Himself |
| Conan | 2013 | TV Series | Himself - Guest |
| Good Day L.A. | 2013 | TV Series | Himself |
| Ellen: The Ellen DeGeneres Show | 2013 | TV Series | Himself - Guest |
| Charlie Rose | 2013 | TV Series | Himself - Guest |
| Mark Lawson Talks to... | 2013 | TV Series | Himself |
| Film '72 | 2004-2013 | TV Series | Himself / Himself - Interviewee |
| The Jonathan Ross Show | 2013 | TV Series | Himself |
| At the Movies | 2013 | TV Series | Himself |
| Making of Philomena | 2013 | Video documentary short | Himself / Martin Sixsmith |
| Question Time | 2012 | TV Series | Himself |
| The Graham Norton Show | 2012 | TV Series | Himself - Guest |
| Evidently... John Cooper Clarke | 2012 | Documentary | Himself |
| The British Comedy Awards 2011 | 2011 | TV Special | Himself |
| Steve Coogan Hates Twitter | 2011 | TV Short | Himself |
| Channel 4 News | 2011 | TV Series | Himself |
| Live from Studio Five | 2010 | TV Series | Himself |
| Steve Coogan: The Inside Story | 2009 | TV Movie | Himself Alan Partridge Paul Calf ... |
| The Curators of Comedy: Behind-the-Scenes of 'Night at the Museum: Battle of the Smithsonian' | 2009 | Video documentary short | Himself |
| Steve Coogan Live: As Alan Partridge and Other Less Successful Characters | 2009 | Video documentary | Paul Calf Duncan Thickett Pauline Calf ... |
| Monty Python: Almost the Truth - The Lawyer's Cut | 2009 | TV Mini-Series | Himself |
| Believe: The Eddie Izzard Story | 2009 | Documentary | Himself |
| The 2009 Independent Spirit Awards | 2009 | TV Special | Himself - Host |
| T4 | 2004-2009 | TV Series | Himself |
| Spicks and Specks | 2009 | TV Series | Himself |
| Rove Live | 2009 | TV Series | Himself |
| The Late Late Show with Craig Ferguson | 2009 | TV Series | Himself |
| The Movie Loft | 2008 | TV Series | Himself |
| The Cast of 'Tropic Thunder' | 2008 | Video documentary short | Himself |
| Tropic Thunder: Before the Thunder | 2008 | Video documentary short | Himself |
| Friday Night with Jonathan Ross | 2005-2008 | TV Series | Himself / Himself - Special Guest |
| Late Night with Conan O'Brien | 2002-2008 | TV Series | Himself |
| Up Close with Carrie Keagan | 2008 | TV Series | Himself |
| HBO First Look | 2008 | TV Series documentary | Himself |
| Late Show with David Letterman | 2008 | TV Series | Himself - Guest |
| Graham Linehan: Funny Business | 2008 | TV Movie documentary | Himself - Interviewee |
| British Film Forever | 2007 | TV Mini-Series documentary | Himself |
| The Making of 'Marie Antoinette' | 2007 | Video short | Himself |
| Dawn French's Boys Who Do Comedy | 2007 | TV Series documentary | Himself |
| Top Gear | 2002-2006 | TV Series | Himself |
| 1 Leicester Square | 2006 | TV Series | Himself |
| Corazón de... | 2006 | TV Series | Himself |
| Jimmy Kimmel Live! | 2006 | TV Series | Himself |
| The Ultimate Sitcom | 2006 | TV Movie documentary | Himself |
| Who Killed the Sitcom? | 2006 | TV Movie documentary | Himself |
| The South Bank Show | 1997-2005 | TV Series documentary | Himself / Himself - Presenter, Comedy Award |
| Comic Relief: Red Nose Night Live 05 | 2005 | TV Special | Alan Partridge |
| I Am Not an Animal - I Am an Animation | 2005 | Video documentary short | Himself |
| The British Comedy Awards 2004 | 2004 | TV Special | Himself |
| The Mysti Show | 2004 | TV Series | Himself |
| This Morning | 2004 | TV Series | Himself |
| Ministry of Mayhem | 2004 | TV Series | Himself |
| Cartoon Cartoon Fridays | 2004 | TV Series | Himself |
| Bob Monkhouse: A BAFTA Tribute | 2004 | TV Special documentary | Himself |
| The British Comedy Awards 2003 | 2003 | TV Special | Himself |
| Coogan's Runner | 2003 | Video documentary short | Himself |
| 24 Hour Party People: Manchester the Movie | 2003 | Video short | Himself |
| Parkinson | 2002 | TV Series | Himself |
| 24 Hour Party People: The Factory Records Saga | 2002 | TV Movie documentary | Himself |
| The Best of British | 2002 | TV Series | Himself |
| Frank Skinner on Frank Skinner | 2001 | TV Movie documentary | Himself |
| The Big Breakfast | 2001 | TV Series | Himself |
| The Frank Skinner Show | 2001 | TV Series | Himself |
| The British Comedy Awards 2001 | 2001 | TV Special | Himself (award presenter) |
| The Works | 2001 | TV Series documentary | |
| Comic Relief: Say Pants to Poverty | 2001 | TV Special | Alan Partridge |
| What a Performance! | 1999 | TV Series | Himself |
| Comic Relief: The Record Breaker | 1999 | TV Special | Alan Partridge |
| Steve Coogan: The Man Who Thinks He's It | 1998 | Video documentary | Steve Coogan Pauline Calf Duncan Thickett ... |
| Live from the Lighthouse | 1998 | TV Special | Alan Partridge Tony Ferrino |
| Brit Awards 1998 | 1998 | TV Special | Himself |
| Heroes of Comedy | 1998 | TV Series documentary | Himself |
| Clive Anderson All Talk | 1998 | TV Series | Himself |
| The Royal Variety Performance | 1996 | TV Movie | Himself |
| Comic Relief: Behind the Nose | 1995 | TV Special | Alan Partridge |
| The Mrs. Merton Show | 1995 | TV Series | Himself |
| Jo Brand Through the Cakehole | 1994 | TV Series | Himself |
| The Royal Variety Performance 1992 | 1992 | TV Movie | Himself |
| Amnesty International's Big 30 | 1991 | TV Movie | Himself |
| The Word | 1990 | TV Series | Himself |
| Live from Her Majesty's | 1988 | TV Series | Himself |
Archive Footage
| Title | Year | Status | Character |
| --- | --- | --- | --- |
| Wogan: The Best Of | 2015 | TV Series | Himself |
| Welcome to the Basement | 2013-2014 | TV Series | Alan Partridge / Steve / Himself |
| Arena | 2014 | TV Series documentary | Himself |
| Greatest Stand Up Comedians | 2013 | TV Movie documentary | Himself - 21st Place |
| The Big Fat Quiz of the Year | 2012 | TV Special | Alan Partridge (uncredited) |
| The Graham Norton Show | 2012 | TV Series | Himself |
| Jennifer Saunders: Laughing at the 90s | 2011 | TV Movie documentary | Various Characters (uncredited) |
| The Big Fat Quiz of the Year | 2011/I | TV Special | Steve (uncredited) |
| Raiders of the Lost Archive | 2009 | TV Series documentary | Himself |
| Comedy Songs: The Pop Years | 2008 | TV Movie documentary | Tony Ferrino |
| The Comedy Map of Britain | 2007-2008 | TV Series documentary | Alan Partridge / Himself |
| 50 Greatest Comedy Catchphrases | 2008 | TV Movie documentary | Alan Partridge (uncredited) |
| The Comedy Christmas | 2007 | TV Movie documentary | Alan Partridge (uncredited) |
| Have I Got News for You | 2007 | TV Series | Keith Mandemant |
| The Big Fat Anniversary Quiz | 2007 | TV Special | Paul Calf (uncredited) |
| 100 Greatest Stand-Ups | 2007 | TV Movie documentary | Himself |
| Yu-Gi-Oh! The Abridged Series | 2007 | TV Series | Alan Partridge |
| TV's 50 Greatest Stars | 2006 | TV Movie documentary | Alan Partridge / Various Characters (uncredited) |
| The Story of Light Entertainment | 2006 | TV Mini-Series documentary | Various |
| Greatest Before They Were Stars TV Moments | 2005 | TV Movie documentary | Neil Kinnock |
| San Sebastián 2005: Crónica de Carlos Boyero | 2005 | TV Movie | Tristram Shandy / Walter Shandy (uncredited) |
| Greatest TV Comedy Moments | 2005 | TV Movie documentary | Paul Calf Alan Partridge (uncredited) |
| The Comedians' Comedian | 2005 | TV Movie documentary | |
| Night of a Thousand Faces | 2001 | TV Special | Himself |
| The Greatest | 2001 | TV Series documentary | Alan Partridge |
| All Saints: The Video | 1998 | Video | Alan Partridge (uncredited) |
Won Awards
| Year | Award | Ceremony | Nomination | Movie |
| --- | --- | --- | --- | --- |
| 2014 | BAFTA Film Award | BAFTA Awards | Best Adapted Screenplay | Philomena (2013) |
| 2013 | BAFTA TV Award | BAFTA Awards | Best Male Performance in a Comedy Programme | Alan Partridge: Welcome to the Places of My Life (2012) |
| 2013 | RTS Television Award | Royal Television Society, UK | Best Scripted Comedy | Alan Partridge: Welcome to the Places of My Life (2012) |
| 2013 | Satellite Award | Satellite Awards | Best Screenplay, Adapted | Philomena (2013) |
| 2013 | Best Screenplay | Venice Film Festival | | Philomena (2013) |
| 2011 | BAFTA TV Award | BAFTA Awards | Best Male Performance in a Comedy Role | The Trip (2010) |
| 2003 | British Comedy Award | British Comedy Awards | Best TV Comedy Actor | I'm Alan Partridge (1997) |
| 1998 | BAFTA TV Award | BAFTA Awards | Best Comedy (Programme or Series) | I'm Alan Partridge (1997) |
| 1998 | BAFTA TV Award | BAFTA Awards | Best Comedy Performance | I'm Alan Partridge (1997) |
| 1998 | British Comedy Award | British Comedy Awards | Best TV Comedy Actor | I'm Alan Partridge (1997) |
| 1994 | British Comedy Award | British Comedy Awards | Best Male TV Performer | Knowing Me, Knowing You with Alan Partridge (1994) |
Nominated Awards
| Year | Award | Ceremony | Nomination | Movie |
| --- | --- | --- | --- | --- |
| 2014 | Oscar | Academy Awards, USA | Best Motion Picture of the Year | Philomena (2013) |
| 2014 | Oscar | Academy Awards, USA | Best Writing, Adapted Screenplay | Philomena (2013) |
| 2014 | Golden Globe | Golden Globes, USA | Best Screenplay - Motion Picture | Philomena (2013) |
| 2014 | Alexander Korda Award for Best British Film | BAFTA Awards | | Philomena (2013) |
| 2014 | BAFTA Film Award | BAFTA Awards | Best Film | Philomena (2013) |
| 2014 | BTVA Feature Film Voice Acting Award | Behind the Voice Actors Awards | Best Vocal Ensemble in a Feature Film | Despicable Me 2 (2013) |
| 2014 | Critics Choice Award | Broadcast Film Critics Association Awards | Best Adapted Screenplay | Philomena (2013) |
| 2014 | Chlotrudis Award | Chlotrudis Awards | Best Adapted Screenplay | Philomena (2013) |
| 2014 | GFCA Award | Georgia Film Critics Association (GFCA) | Best Adapted Screenplay | Philomena (2013) |
| 2014 | Gold Derby Award | Gold Derby Awards | Adapted Screenplay | Philomena (2013) |
| 2014 | Guardian Film Award | Guardian Film Awards, UK | Best Line of Dialogue | Philomena (2013) |
| 2014 | IOMA | Italian Online Movie Awards (IOMA) | Best Adapted Screenplay (Miglior sceneggiatura non originale) | Philomena (2013) |
| 2014 | ALFS Award | London Critics Circle Film Awards | British Actor of the Year | Alan Partridge: Alpha Papa (2013) |
| 2014 | ALFS Award | London Critics Circle Film Awards | Screenwriter of the Year | Philomena (2013) |
| 2014 | OFTA Film Award | Online Film & Television Association | Best Writing, Screenplay Based on Material from Another Medium | Philomena (2013) |
| 2014 | USC Scripter Award | USC Scripter Award | | Philomena (2013) |
| 2013 | BAFTA TV Award | BAFTA Awards | Best Comedy Programme | Alan Partridge: Welcome to the Places of My Life (2012) |
| 2013 | EDA Award | Alliance of Women Film Journalists | Best Writing, Adapted Screenplay | Philomena (2013) |
| 2013 | ACCA | Awards Circuit Community Awards | Best Adapted Screenplay | Philomena (2013) |
| 2013 | British Independent Film Award | British Independent Film Awards | Best Screenplay | Philomena (2013) |
| 2013 | British Independent Film Award | British Independent Film Awards | Best Actor | Philomena (2013) |
| 2013 | CFCA Award | Chicago Film Critics Association Awards | Best Adapted Screenplay | Philomena (2013) |
| 2013 | DFCS Award | Denver Film Critics Society | Best Writing, Adapted Screenplay | Philomena (2013) |
| 2013 | PFCS Award | Phoenix Film Critics Society Awards | Best Screenplay - Adapted | Philomena (2013) |
| 2013 | SFFCC Award | San Francisco Film Critics Circle | Best Screenplay, Adapted | Philomena (2013) |
| 2013 | Screenplay Competition | Screenwriters Choice Awards, Online | Best Adapted Screenplay | Philomena (2013) |
| 2012 | British Comedy Award | British Comedy Awards | Best TV Comedy Actor | Alan Partridge: Welcome to the Places of My Life (2012) |
| 2011 | BAFTA TV Award | BAFTA Awards | Best Situation Comedy | The Trip (2010) |
| 2011 | Broadcasting Press Guild Award | Broadcasting Press Guild Awards | Best Comedy/Entertainment | The Trip (2010) |
| 2010 | British Comedy Award | British Comedy Awards | Best New TV Comedy | The Trip (2010) |
| 2008 | OFTA Television Award | Online Film & Television Association | Best Guest Actor in a Comedy Series | Curb Your Enthusiasm (2000) |
| 2005 | Satellite Award | Satellite Awards | Outstanding Actor in a Supporting Role, Comedy or Musical | Happy Endings (2005) |
| 2003 | BAFTA TV Award | BAFTA Awards | Best Comedy Performance | I'm Alan Partridge (1997) |
| 2003 | Empire Award | Empire Awards, UK | Best British Actor | 24 Hour Party People (2002) |
| 2003 | OFCS Award | Online Film Critics Society Awards | Best Breakthrough Performance | 24 Hour Party People (2002) |
| 2003 | RTS Television Award | Royal Television Society, UK | Best Comedy Performance | I'm Alan Partridge (1997) |
| 2002 | Carl Foreman Award for the Most Promising Newcomer | BAFTA Awards | | The Parole Officer (2001) |
| 2002 | VVFP Award | Village Voice Film Poll | Best Performance | 24 Hour Party People (2002) |
| 1995 | BAFTA TV Award | BAFTA Awards | Best Light Entertainment Performance | Knowing Me, Knowing You with Alan Partridge (1994) |
| 1995 | BAFTA TV Award | BAFTA Awards | Best Comedy Performance | Pauline Calf's Wedding Video (1994) |
2nd Place Awards
| Year | Award | Ceremony | Nomination | Movie |
| --- | --- | --- | --- | --- |
| 2013 | SEFCA Award | Southeastern Film Critics Association Awards | Best Adapted Screenplay | Philomena (2013) |
| 2013 | SLFCA Award | St. Louis Film Critics Association, US | Best Adapted Screenplay | Philomena (2013) |
Known for movies