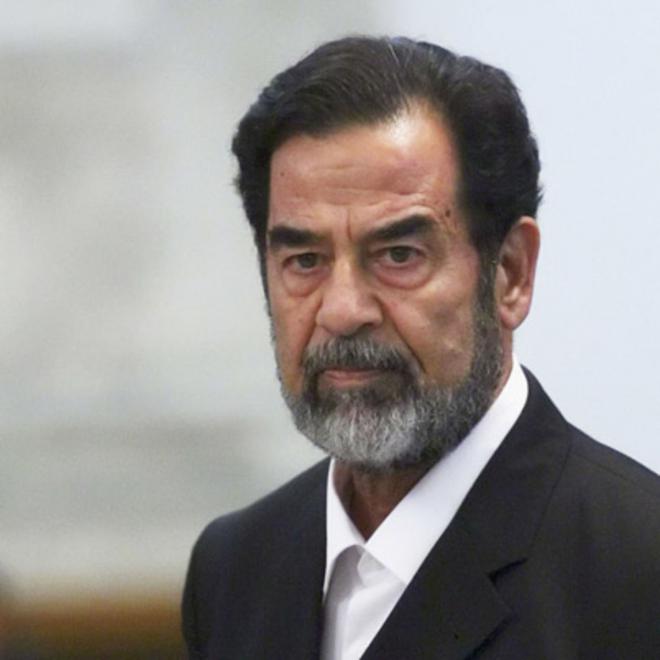 Saddam Hussein Net Worth is

$2 Billion
Saddam Hussein Bio/Wiki 2018
Saddam Hussein Net Worth $2 Billion
Saddam Hussein was the fifth President of Iraq, and had an estimated net worth of $2 billion as of 2003. He served the place from July 16, 1979 to April 9, 2003. The leading member of the revolutionary Arab Socialist Ba'ath Party and later the Baghdad-based Ba'ath Party, he was the key individual through the 1968 coup, which was after referred to as the July 17 Revolution, that brought the party to power in Iraq.
Saddam Hussein Abd al-Majid al-Tikriti was born on April 28, 1937 in Al-Awja, Saladin Province, Iraq. He served as the vice president to General Ahmed Hassan al-Bakr. He formally rose to power in 1979 after being the de facto head of Iraq for many years. During his time in office, he obtained control within the conflict involving the authorities and the armed forces. He also nationalized petroleum and other sectors, as well as took control of state-owned banks.
In the spring of 2003, a coalition of foreign nations led by the U.S. and the U.K. invaded Iraq and deposed him. His Ba'ath party was disbanded and elections were held.
Saddam suppressed several movements, like Shi'a and Kurdish movements, who sought to overthrow the authorities or increase independence. Some citizens may have adored his position on Israel through the Gulf War and his management of power during the Iran-Iraq war, however he was exceptionally condemned for the brutality of his dictatorship in the west.
Saddam Hussein was captured on December 13, 2003 and was afterwards tried underneath the Iraqi interim authorities. He was convicted of charges related to the 1982 killing of 148 Iraqi Shi'ites on November 5, 2006 and was sentenced to death by hanging. He was executed on December 30, 2006.
 
| | |
| --- | --- |
| Net Worth | $2 Billion |
| Date Of Birth | April 28, 1937 |
| Died | 2006-12-30 |
| Place Of Birth | al-Awja, Iraq |
| Height | 6' 1¼" (1.86 m) |
| Profession | Writer |
| Education | Cairo University, University of Baghdad |
| Nationality | Iraqi |
| Spouse | Samira Shahbandar |
| Children | Uday Hussein Qusay Hussein Raghad Hussein Rana Hussein Hala Hussein |
| Parents | Hussein 'Abd al-Majid, Subha Tulfah al-Mussallat |
| Siblings | Barzan Ibrahim al-Tikriti, Watban Ibrahim al-Tikriti, Sabawi Ibrahim al-Tikriti, Siham Hussein, Nawal Ibrahim Al-Hassan |
| Nicknames | Saddam Hussein Abd al-Majid al-Tikriti , Ṣaddām Ḥusayn ʿAbd al-Maǧīd al-Tikrītī , صدام حسين عبد المجيد التكريتي |
| Awards | NME Award for Bastard of the Year |
| Nominations | World Music Award for World's Best Live Act, World Music Award for World's Best Entertainer of the Year, World Music Award for World's Best Male Artist, Boushret Kheir, Wahashetny Donety, Kollona Al Iraq |
| Movies | Long Days, 7. Episode 7, 6. Part IV, 5. Part III |
| # | Quote |
| --- | --- |
| 1 | [About to be hung. An observer shouts "Go to Hell!"] To the Hell that is Iraq? |
| 2 | Those who fight in God's cause will be victorious. |
| 3 | There is much to be said for having an experienced international jurist who is entirely unconnected with the allied invaders, on the tribunal. |
| 4 | Remember the valiant Iraqi peasant and how he shot down an American Apache with an old weapon. |
| 5 | Politics is when you say you are going to do one thing while intending to do another. Then you do neither what you said nor what you intended. |
| 6 | If you are Iraqi, you know who I am... and you know that I do not tire. I am the president of Iraq and I refuse to answer these questions because this court is illegitimate. |
| 7 | Who are you and what are you?... I need to know. |
| 8 | We are ready to sacrifice our souls, our children and our families so as not to give up Iraq. We say this so no one will think that America is capable of breaking the will of the Iraqis with its weapons. |
| 9 | We are not intimidated by the size of the armies, or the type of hardware the US has brought. |
| 10 | I didn't say 'former president,' I said 'president,' and I have the constitutional rights according to the constitution, including immunity from prosecution. |
| 11 | I am not guilty, I am innocent. |
| 12 | I am not going to answer to this so-called court, out of respect for the truth and the will of the Iraqi people. I've said what I've said, and I'm not guilty. |
| 13 | Baghdad is determined to force the Mongols of our age to commit suicide at its gates. |
| 14 | Allah is on our side. That is why we will beat the aggressor. |
| 15 | You Americans, you treat the Third World the way an Iraqi peasant treats his new bride. Three days of honeymoon, and then it's off to the fields. (1985) |
| # | Fact |
| --- | --- |
| 1 | On November 5, 2006, he was sentenced to death by hanging for the murders of 148 people in the mostly-Shia town of Dujail in 1982. |
| 2 | In 1980, he was given the key to Detroit, making him an honorary citizen. |
| 3 | Has been portrayed in movies and TV by actor James Evans of General Hospital (1963) fame. |
| 4 | When climbing out of the "spider hole" where he was hiding, he said to the US troops, "Don't shoot! I am Saddam Hussein! I am the President of the Republic of Iraq and I wish to negotiate!" One of the troops replied, "President Bush sends his regards." |
| 5 | 14 December 2003: Acting on a tip, coalition forces captured the dictator hiding in an underground crawl space on a farm in Adwar, 10 miles from Tikrit. |
| 6 | Credited as "Himself" in the animated film South Park: Bigger, Longer & Uncut (1999). Photos of the real Hussein (and the voice of Matt Stone) were used for the animated character. |
| 7 | His sons, Uday Hussein and Qusay Hussein, were killed along with 2 others in a 6-hour standoff with United States forces at a palatial villa in Mosul, Iraq. (22 July 2003). |
| 8 | In July 2003, a $25 million reward was offered for evidence of his whereabouts, his capture, or proof of his death. |
| 9 | First wife Sajida is the daughter of Khairallah Tulfah, Saddam's uncle and first mentor. Their marriage was arranged when Saddam was 5 and Sajida was 7. However, the two didn't meet until 1958; they were married in Egypt during his exile. While Sajida was officially Iraq's First Lady, Saddam has at least three other wives the Iraqi press kept silent about. His newest wife, Wafa, is the daughter of his last deputy prime minister, Abdul Tawab el-Mulla Howeish. |
| 10 | Children: Sons Uday Hussein and Qusay Hussein, daughters Raghda, Rana and Hala by first wife, Sajida; son Ali Saddam by second wife, Samira. Uday controlled the media and was named Journalist of the Century by the Iraqi Union of Journalists. Qusay ran the elite Republican Guard and was considered Saddam's heir. Both brothers made a fortune smuggling oil. Saddam ordered Raghda's and Rana's husbands killed in 1996 after they plotted against him. Raghda, Rana and Sajida were placed under house arrest in 1997 when it was suspected they had a role in the 12 December 1996 ambush that nearly killed Uday. Hala's husband, Jamal Mustafa Sultan al-Tikriti, surrendered to U.S. troops in April 2003. Uday and Qusai were killed in Mosul during a firefight with United States troops in mid-July 2003. |
| 11 | His regime ended publicly, if not officially, on 9 April 2003, when citizens of Baghdad pulled down a statue of him erected to mark his 65th birthday. |
| 12 | Has a look-alike puppet in the French show Les guignols de l'info (1988). |
| 13 | Usually portrayed in US movies by actor Jerry Haleva. |
| 14 | Favorite movie was The Godfather (1972). |
| 15 | Invaded Kuwait on August 2, 1990 and made it the 19th province of Iraq. |
| 16 | Waged war against Iran from September 22, 1980 to August 1988. The Iran-Iraq war is estimated to have caused one million casualties including 250,000 Iraqi dead. |
| 17 | In 1959, he and a group from the radical nationalist movement Ba'ath attempted to assassinate General Abd al-Karim Qasim, who had overthrown King Faisal II. It was unsuccessful, forcing Saddam to go into exile until 9 February, 1963, when Qasim was tortured and killed by Ba'ath army officers after a kangaroo trial broadcast live on Iraqi television. |
| 18 | In 1956, he participated in an unsuccessful coup attempt against King Faisal II. |
| 19 | An interrogator and torturer at the infamous "Palace of the End", the cellar of the former palace of King Faisal II. |
| 20 | Attended Cairo (Egypt) University School of Law. |
| 21 | Ranked 55th on the Forbes World's Richest with an estimated worth of $7 billion. (2000). |
| 22 | An admirer of Winston Churchill and Joseph Stalin. |
| 23 | Wrote two novels, "Zabibah and the King" and "The Fortified Castle", under the pen name "He Who Wrote It.". |
| 24 | His birthday was formerly an Iraqi national holiday. |
| 25 | Had over 20 presidential palaces. |
| 26 | In an open letter to the American people, Hussein said that the attacks on the Pentagon and the World Trade Center were retribution for the death and destruction America has unleashed against foreigners, including the bombing of Hiroshima and Nagasaki, the Gulf War and economic sanctions against Iraq. (18 September 2001). |
| 27 | At a now-infamous meeting shown on Iraqi television, he had several members escorted out and executed in an "effort" to "cleanse" the Ba'ath Party (22 July 1979). |
| 28 | Declared himself President upon the resignation of President Ahmad Hassan al-Bakr due to "health problems" (16 July 1979). |
Writer
| Title | Year | Status | Character |
| --- | --- | --- | --- |
| Al-ayyam al-tawila | 1980 | novel | |
Miscellaneous
| Title | Year | Status | Character |
| --- | --- | --- | --- |
| Al-mas' Ala Al-Kubra | 1983 | funding producer - uncredited | |
Self
| Title | Year | Status | Character |
| --- | --- | --- | --- |
| Without Fear or Favor: The Best in Broadcast Journalism | 2004 | TV Special documentary | Himself |
| Inside Edition | 2004 | TV Series documentary | Himself |
| ABC World News Tonight with David Muir | 2003 | TV Series | Himself |
| Les dix | 2003 | | Himself |
| BBC World News | 2003 | TV Series | Himself |
| CBS News Sunday Morning | 2003 | TV Series documentary | Himself |
| Today | 2003 | TV Series | Himself |
| Uncle Saddam | 2000 | Documentary | Himself |
| Gore Vidal's American Presidency | 1996 | TV Mini-Series documentary | Himself (1996) |
| Saddam Hussein: Defying the World - A Visual Biography | 1990 | Documentary short | Himself |
| Biography | 1987 | TV Series documentary | Himself |
| Panorama | 1981 | TV Series documentary | Himself |
| America at a Crossroads | 2008 | TV Series documentary | Himself |
| WMD: Weapon of Mass Destruction | 2004 | Documentary | Himself |
| NBC Nightly News with Lester Holt | 2004 | TV Series | Himself |
| Frontline | 2004 | TV Series documentary | Himself |
| CBS Evening News with Dan Rather | 2003-2004 | TV Series | Himself |
Archive Footage
| Title | Year | Status | Character |
| --- | --- | --- | --- |
| Secret History | 2016 | TV Series documentary | Himself |
| Panorama | 2013-2016 | TV Series documentary | Himself |
| Menschen & Mächte | 2016 | TV Series documentary | Himself |
| That's So... | 2016 | TV Series documentary | Himself |
| World Order | 2015 | Documentary | Himself |
| Els dies clau | 2015 | TV Series documentary | Himself |
| Imminent Threat | 2015 | Documentary | Himself |
| History | 2014 | TV Series documentary | Himself - Präsident Irak |
| Dancing Arabs | 2014 | | Himself (uncredited) |
| The Hitch | 2014 | Documentary | Himself |
| ITV Lunchtime News | 2014 | TV Series | Himself |
| The Iraq War | 2013 | TV Series documentary | Himself |
| Me Gusta: Með Gústa | 2013 | TV Series | Himself |
| Girlfriend in a Coma | 2012 | Documentary | Himself (uncredited) |
| 41 | 2012/II | Documentary | Himself |
| Shadows of Liberty | 2012 | Documentary | Himself - former Iraqi dictator |
| America's Book of Secrets | 2012 | TV Series documentary | Himself |
| This Is England '88 | 2011 | TV Mini-Series | Himself |
| Kay.Fabe | 2011 | Short | |
| Ethos | 2011/I | Documentary | Himself |
| The Devil's Double | 2011 | | Himself (uncredited) |
| The War You Don't See | 2010 | Documentary | Himself |
| War of the Gods | 2010 | Documentary | Himself |
| 24 timer vi aldrig glemmer | 2010 | TV Series | Himself |
| 50 años de | 2009 | TV Series | Himself |
| The Men Who Stare at Goats | 2009 | | Himself (uncredited) |
| Iran and the West | 2009 | TV Series documentary | Himself |
| Dangerous Dynasty: The Bush Legacy | 2009 | Video documentary short | Himself |
| The Shock Doctrine | 2009 | Documentary | Himself (uncredited) |
| W. | 2008/I | | Himself (uncredited) |
| Being W | 2008 | Documentary | Himself |
| Superpower | 2008 | Documentary | Himself |
| Blood and Oil | 2008 | Video documentary | Himself |
| Catalunya.cat | 2008 | TV Movie documentary | Himself |
| Afterschool | 2008 | | Himself (uncredited) |
| Frontline | 2008 | TV Series documentary | Himself |
| The O'Reilly Factor | 2008 | TV Series | Himself |
| William F. Buckley: Right from the Start | 2008 | TV Movie documentary | Himself |
| Wir sind Kaiser | 2007 | TV Series | Himself |
| The Blair Years | 2007 | TV Series documentary | Himself |
| The Colbert Report | 2007 | TV Series | Himself |
| CNN Presents | 2007 | TV Series documentary | Himself |
| The Kingdom | 2007 | | Himself (uncredited) |
| Un jour, un destin | 2007 | TV Series documentary | Himself |
| Taking Liberties | 2007 | Documentary | Himself (uncredited) |
| Star Wars: The Legacy Revealed | 2007 | TV Movie documentary | Himself |
| Die 4 da | 2007 | TV Series | Himself |
| Larry Flynt: The Right to Be Left Alone | 2007 | Documentary | Himself |
| The Battle for Saddam | 2007 | TV Movie documentary | Himself |
| 20 heures le journal | 2007 | TV Series | Himself |
| Validation | 2007 | Short | Saddam Hussein (uncredited) |
| Unter falscher Flagge | 2007 | Video documentary | Himself |
| The Fame Review 2006 | 2006 | TV Movie documentary | Himself (uncredited) |
| Djihad! | 2006 | TV Movie | Himself (uncredited) |
| Al Jazeera English | 2006 | TV Series | Himself |
| Have I Got News for You | 2006 | TV Series | Himself |
| Inside Saddam's Reign of Terror | 2006 | TV Movie documentary | Himself |
| Chirac | 2006 | TV Movie documentary | Himself |
| TV's 50 Greatest Stars | 2006 | TV Movie documentary | Himself (uncredited) |
| Dans la peau de Jacques Chirac | 2006 | Documentary | Himself |
| 20 to 1 | 2006 | TV Series documentary | Himself |
| SuperNews! | 2006 | TV Series | Himself |
| Declassified | 2006 | TV Series documentary | Himself |
| Zero Hour | 2006 | TV Series documentary | Himself - Iraqi Dictator |
| 50 y más | 2005 | TV Movie | Himself |
| Saddam Hussein: Histoire d'un procès annoncé | 2005 | TV Movie documentary | Himself |
| National Geographic: Inside 9/11 | 2005 | TV Mini-Series documentary | Himself |
| Beyond Treason | 2005 | Video documentary | Himself (uncredited) |
| Saddam, le meilleur ennemi de l'Amérique | 2005 | TV Movie | Himself |
| NBC Nightly News with Lester Holt | 2005 | TV Series | Himself |
| National Geographic Explorer | 2005 | TV Series documentary | Himself |
| Why We Fight | 2005 | Documentary | Himself |
| Saddam Hussein: le procès que vous ne verrez pas | 2004 | TV Movie documentary | Himself |
| Celsius 41.11: The Temperature at Which the Brain... Begins to Die | 2004 | Documentary | Himself |
| Fahrenhype 9/11 | 2004 | Video documentary | Himself |
| Buried in the Sand: The Deception of America | 2004 | Video documentary | Himself |
| 60 Minutes | 2003-2004 | TV Series documentary | Himself - Iraqi President / Himself |
| The World According to Bush | 2004 | TV Movie documentary | Himself |
| Fahrenheit 9/11 | 2004 | Documentary | Himself |
| Modern Marvels | 2001-2004 | TV Series documentary | Himself |
| Bush's Brain | 2004 | Documentary | Himself (uncredited) |
| Freedom2speak v2.0 | 2004 | Documentary | Himself - Dictator, Iraq |
| Nous les Irakiens | 2004 | Documentary | Himself |
| The Power of Nightmares: The Rise of the Politics of Fear | 2004 | TV Mini-Series documentary | Himself |
| History Now: The Hunt for Osama and Saddam - Tracking Down the Killers | 2003 | TV Movie documentary | Himself |
| Our Friend Saddam | 2003 | TV Movie documentary | Himself |
| Året der gik 2003 | 2003 | TV Special | Himself (uncredited) |
| TV 2 003 - Året i ord og billeder | 2003 | TV Special documentary | Himself (uncredited) |
| Nyhetsåret 2003 | 2003 | TV Movie documentary | Former Iraqi President |
| Un día cualquiera | 2003 | TV Movie documentary | Himself |
| Sendung ohne Namen | 2002-2003 | TV Series documentary | Himself |
| The Real Room 101 | 2003 | TV Movie documentary | Himself (uncredited) |
| History Now: Sons of Saddam | 2003 | TV Movie | Himself |
| Quest for Saddam | 2003 | Video Game | Himself |
| Tilbage til Bagdad | 2003 | TV Movie documentary | Himself (uncredited) |
| Behind Iraqi Lines | 2003 | TV Movie documentary | Himself |
| Biography of the Year 2003 | 2003 | TV Short | Himself |
| I rævens hule - Saddams Irak | 2002 | TV Special documentary | Himself (uncredited) |
| Live from Baghdad | 2002 | TV Movie | Himself (uncredited) |
| Equilibrium | 2002 | | Himself (uncredited) |
| Dags dato | 2002 | TV Series documentary | Himself |
| Bowling for Columbine | 2002 | Documentary | Himself |
| Clash of Warriors | 2002 | TV Series documentary | Himself |
| Wartime Deception | 2001 | TV Movie documentary | Himself |
| Terra X - Rätsel alter Weltkulturen | 1999 | TV Series documentary | Himself |
| Sworn to Secrecy: Secrets of War | 1998 | TV Series documentary | Himself |
| Courage Under Fire | 1996 | | Himself (uncredited) |
| The Gulf War | 1996 | TV Movie | Himself |
| Unbroadcastable 'Have I Got News for You' | 1995 | Video | Himself (uncredited) |
| JAG | 1995 | TV Series | Himself |
| Biography | 1995 | TV Series documentary | Himself |
| UFO Diaries | 1995 | TV Series documentary | Himself |
| Doomsday Gun | 1994 | TV Movie | Himself (uncredited) |
| Nostradamus | 1994 | | Himself (uncredited) |
| Islamic Fundamentalism & Democracy | 1993 | TV Movie documentary | Himself (uncredited) |
| Peter's Friends | 1992 | | Himself (uncredited) |
| The Finest Hour | 1992 | | Himself (uncredited) |
| The Horrors of War | 1992 | Video documentary | Himself |
| Hyperdelic E-Mission | 1991 | Video documentary | Himself |
| Memories of 1970-1991 | 1991 | TV Series documentary | Himself |
| Desert Storm: The War Begins | 1991 | TV Movie documentary | Himself |
Known for movies